COVID-19 Vaccination Clinic Info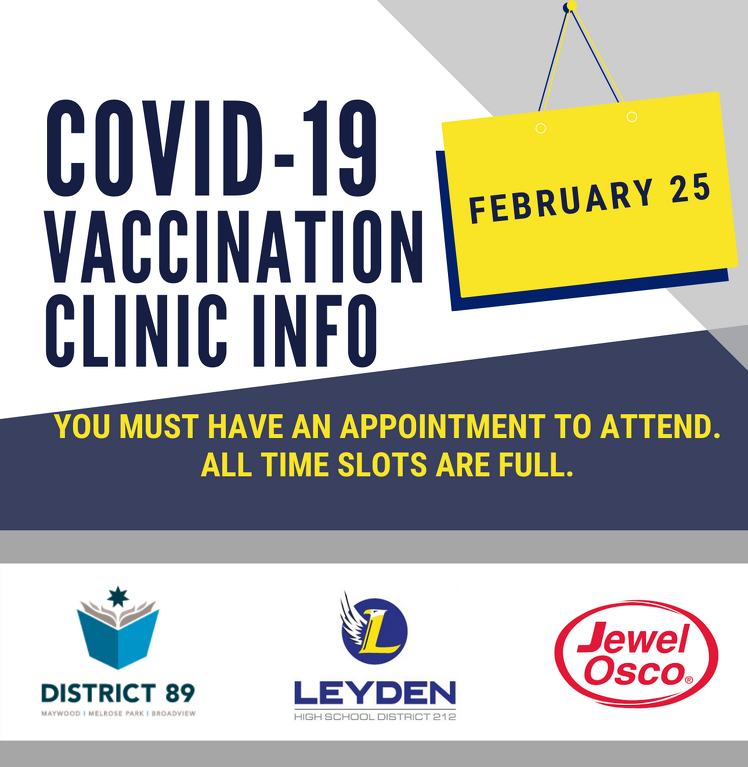 You must have an appointment to attend. All time slots are FULL. The following information is for community members who already have secured an appointment.
Thursday, February 25
9 a.m. to 5 p.m.
West Leyden High School
Fieldhouse
1000 Wolf Road
Northlake, IL
Important reminders:
The Pfizer vaccine will be administered;
The first dose will be administered during your appointment on February 25 and you will need to be available for the second dose on March 18 during the exact same time slot;
Wear short sleeve shirts/vaccine appropriate clothing;
Parking will be available across from the Field House: Entrance #1;
Plan to arrive 15 minutes prior to your appointment;
You MUST bring a completed consent form, copies of identification and insurance (medical/prescription). Data Needed on Consent Form:
Full Name
DOB
Address
Phone#
Race (see consent and release for options)
Ethnicity (see consent and release for options)
Patients on Medicare B: Last 4 of SSN
The other forms are for information only. You can send the EUA, NPP and VSafe electronically. It is NOT needed the day of more of the clinic;
All populations in Illinois can receive the vaccine regardless of insurance coverage or immigration status, including individuals who are undocumented.
If you need to cancel or reschedule your appointment, you can refer to your confirmation email for additional information or contact [email protected]