State Rep Welch joins Law-Enforcement Leaders in visit to WDLA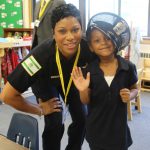 Members of Fight Crime: Invest in Kids Illinois joined State Representative Chris Welch in visiting the Preschool for All (PFA) program in District 89. They expressed strong support for the efforts of the recent expansion of the PFA program in a meeting with D89 admin followed by storytelling in a PFA classroom.
D89 tripled the program from 4 preschool classrooms last school year to 12 classrooms this school year. This will allow D89 to service 480 preschool aged students.